PHOTOGRAPHY SERVICES
The thing I'm most passionate about and the one I focus all my work is the art of telling a good story. From my background in journalism, I know how to grab the truest and most honest essence — of a subject, an event, a person, a moment on the street — and convey the message they transmit in the best way possible. From my filmmaking studies, I incorporate a cinematic aesthetic and mood to my work, with the intention to create evocative imagery and stories that come alive in the audience's minds.
Psychology was a big vocation I wound up not following, but nevertheless I kept a natural knack for it and a heightened curiosity towards studying the human spirit with empathy, which proves very useful to connect with my subjects, understand how people "work" and how to tell their stories. It also helps me "feel" the scene or situation in front of me, to know the best moment when to take the shot, either with someone I'm taking a portrait of, a candid situation in the city, some actors engaged in a scene, or a speaker on a stage. I'm a "people's person" and I have an innate ability to make others feel at ease in any given situation.
The tailor-made services I can offer you for any photography or communication needs you or your brand may have include: portfolio images or headshots for actors and artists; individual, corporate, family or group portraits; weddings and birthdays, special events, corporate conferences and parties; entertainment (making of, behind the scenes, still shots, tech rehearsals, concert photography, music band album cover/publicity proposals); photojournalism, fashion, advertising, documentary and creative visual storytelling campaigns. To hire me, get a quote for fees or buy prints of my work, please get in touch through your preferred channel in the Contact section. Thank you so much for your business. I look forward to working with you and tell your story together!
BIO & EXPERIENCE
I'm a professional Visual Storyteller living in Barcelona, Spain (after a previous decade in New York City). I'm originally from Mallorca (Spain) and I also spent two years in Cuba. My background includes photography, journalism (radio, TV, writing, columnist and social media expert), filmmaking and videography (fiction and documentary), public speaking and storytelling (oral stories, presentation, transmedia storytelling).
I am considered one of the worldwide early pioneers and leading artists of the Mobile Photography revolution (formerly known as iPhoneography) since 2008. As such, I've been recently featured in my own episode in the third season of the celebrated TV show "Detrás del Instante" ("Behind the Moment") on La2 of TVE, Spain's national TV. One of my cellphone images was purchased and joined the permanent collection of the High Museum of Art (Atlanta). My artistic work has been additionally showcased in international exhibits, prestigious magazines, newspapers, blogs, TV segments and several book covers. My curatorial skills have been sought to be a judge in diverse international photography competitions (Viewbug, Venezuela Mobile Photo Festival, HP Air Print contest, MPA Mobile Photo Awards, EYEEM). And I've participated as a public speaker on stage events about Visual Storytelling, Photography (street, mobile, fashion, social visual media) and Copyright. My most recent public speaking engagements were in the first ever Spanish-English bilingual workshops by renowned non-profit storytelling organization The Moth as a story coach, and at FNAC Barcelona for Fujifilm.
My skills have been sought by a very diverse group of clients: 1) Big corporations like UPS (the national seasonal campaign "Mobile Documentary: Wishes Delivered"), Beefeater and Last FM (campaign "The Soundtrack of Your Life"), Montblanc, HP, Panasonic and Ushuaïa Group. 2) Entertainment celebrities in theater (official photographer of the 24 Hour Broadway Plays, Tami Stronach) and music (Best Song Oscar winner, singer and actress Marketa Irglova, Spanish singer Andrés Suárez). 3) Corporate entrepreneurial business events (New York Tech Meet Up, Blue Coat, Gamification Co, Castlight). 4) Fashion (launching campaign of brand BAR III for Macy's, Tory Burch, Clash by Dash). 5) Political parties, with the visual storytelling consulting and photography for the Mijöpartiet (Green Party) of Varberg in Sweden.
I teach workshops on Street Photography, Visual Storytelling and Mobile Photo creation. I was the co-founder and instructor (alongside my husband, Anton Kawasaki) of the Mobile Photo Workshop: "The Storytelling Series," a group of successful online workshops on Street Photography, Portraiture and the concept of "Documenting Your World" (through journalistic and documentary techniques). The workshops teach our students how to hone their skills on creative storytelling and tell a perfect story by a combination of photography, text and video, using only a simple tool like a mobile device.
Recent Blog Posts
It is a total happiness to be able to have the privilege of being celebrated and seeing your life flash before your eyes without having to die for it. Read about the story behind the documentary TV episode about my life and work on "Detrás del Instante" on La2 de TVE, Spain National TV.
Read More

›
Featuring the debut of the new lyric video of "Among The Living," by Markéta Irglová, with photographs by yours truly. This is the story of how I met Markéta a decade ago, and what led to the wonderful collaboration of this truly beautiful song and my own images.
Read More

›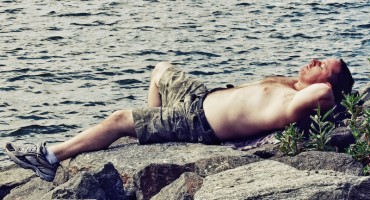 Have you ever also found yourself observing fascinated at other people sleeping in public in front of you? Or have you ever awoken from a quick nap yourself in the subway, train or plane, or at the beach or park, and wondered if anyone could have been looking at you? One of the few things in life that makes us all equal is our need and appreciation for the act of sleeping. When we fall asleep in public surrounded by strangers, we enter in a particularly interesting and vulnerable space, that makes for a fascinating observation.
Read More

›
Photo in header by Jonathan Weiskopf